In Fall 2018, we released a new generator for obtaining links and embed codes, the Link Constructor. The Link Constructor is located on the Instructor Tab of your admin dashboard.
The Link Constructor replaces the Deep Links and Embed Codes tabs on your admin dashboard, where your links and embeds were previously posted for you. We made the switch because those tabs are manually updated, requiring the support team to update the links by hand whenever there is a change. With the release of the Link Constructor, all links and embeds are now auto-generated, making it easy for you to add your proxy when needed and making it easy for us to ensure that you always have the up-to-date and correct links for your account.
The Link Constructor was added to your admin account at the beginning of the Fall Content Update opt-out period. At the end of the opt-out period, we began taking down the existing Deep Links and Embed Codes tabs on your account. You can obtain the new links and embeds for the new content using the Link Constructor.
If you have any questions, please do not hesitate to contact our support team at support@credoreference.com.
The Link Constructor tab can be found by logging in to your admin dashboard, then navigating to the Instructor tab > Link Constructor.
Use the radio buttons to select which kind of link you are looking for: direct link (deep link) or embed code. When you select one of these options, a list of that type of links is generated on the page. As always, these are stable, permanent links that can be used to integrate your Credo content in your library website, LibGuides, Learning Management System, etc.
If your institution uses a proxy for remote access, you can also add your proxy to the direct links or embed codes.
For proxies that use a proxy prefix, such as EZProxy, simply paste your proxy prefix in the "Add proxy prefix to links" field. If your proxy server requires the URL after the prefix to be encoded, make sure to check off the "Encode URLs" option.
If you have a WAM proxy, paste your proxy server URL (without the http or https) into the "Add WAM proxy field."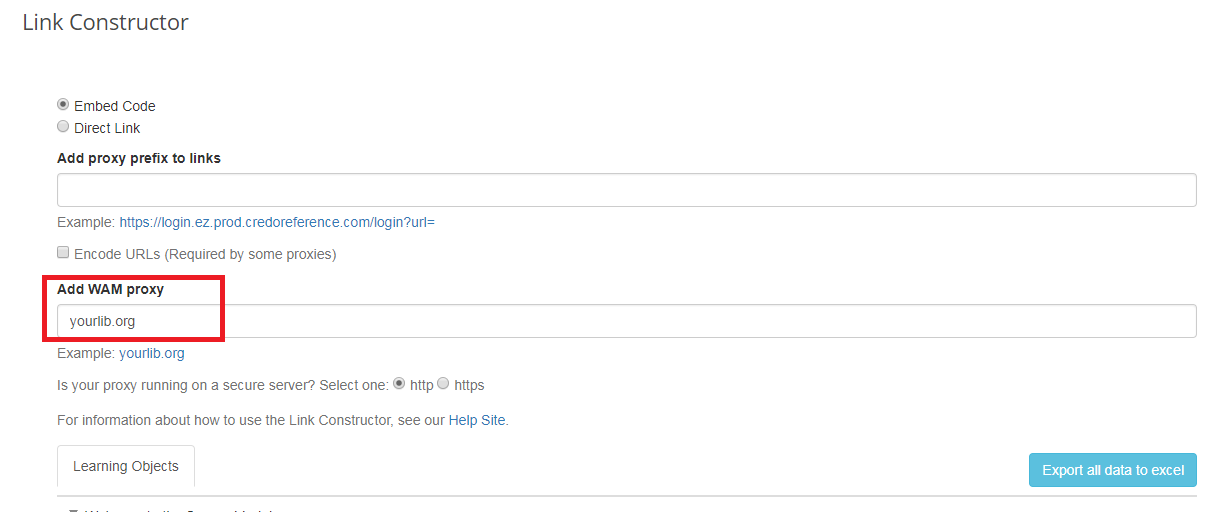 Adding proxy information in these fields will add your proxy to all of the links generated by the Constructor, so that it is included when you copy or export the links.
Once you've selected the option you are looking for and added your proxy (if needed), you can copy the links directly from the Link Constructor page, or you can use the "Export all data to Excel" option to generate a downloadable file of all links for your account.