The Link Constructor is Credo's self-service link generator, which admins can use to obtain deep links, embed codes, and LTI links for the content in their account.
Please note that LTI links are only available for InfoLit (formerly known as Instruct); View and legacy K-12 products do not have this feature.
---
VIDEO: How to Embed or Link Directly to Individual Objects
The Link Constructor tab can be found by logging in to your admin dashboard, then navigating to the Instructor tab > Link Constructor.
Use the radio buttons to select which kind of link you are looking for: direct link (deep link), embed code, or LTI link. When you select one of these options, a list of that type of links is generated on the page. As always, these are stable, permanent links that can be used to integrate your Credo content in your library website, LibGuides, Learning Management System, etc. For a refresher on the difference between the different kinds of links, see here.
Please note: your LTI links should not include your proxy information. If you are seeing proxied LTI links in the Link Constructor, please contact support (support@credoreference.com) for assistance. Include a screenshot of the page with the URL in your address bar included.
If your institution uses a proxy for remote access, you can also add your proxy to the direct links or embed codes.
For proxies that use a proxy prefix, such as EZProxy, simply paste your proxy prefix in the "Add proxy prefix to links" field. If your proxy server requires the URL after the prefix to be encoded, make sure to check off the "Encode URLs" option.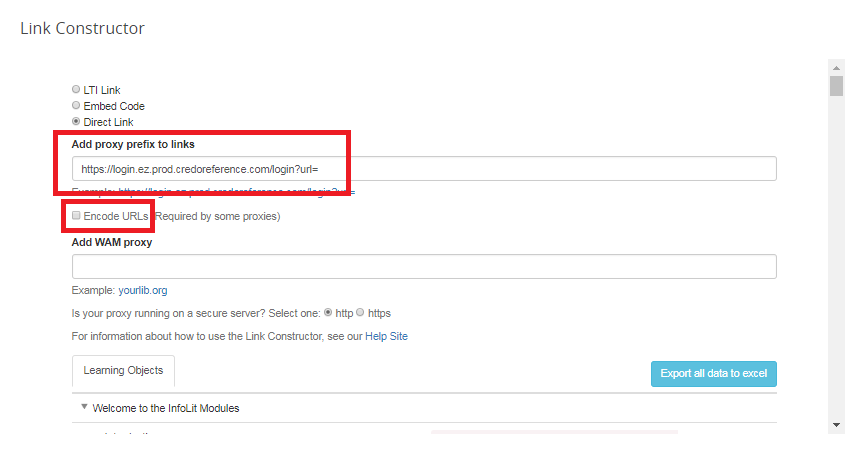 If you have a WAM proxy, paste your proxy server URL (without the http or https) into the "Add WAM proxy field."
Adding proxy information in these fields will add your proxy to all of the links generated by the Constructor, so that it is included when you copy or export the links.
Once you've selected the option you are looking for and added your proxy (if needed), you can copy the links directly from the Link Constructor page, or you can use the "Export all data to Excel" option to generate a downloadable file of all links for your account.
If you have any questions about how to use the Link Constructor, please do not hesitate to ask our support team.